Welcome to Belly Dancing by Sabrina!
Please come check out my new web page at http://bellydancersabrina.com
Performer - Instructor - Choreographer - Costumer - Artistic Director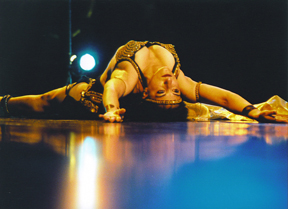 Performances and Instruction in the Art of Belly Dance by Sabrina

Belly Dancer Sabrina is a prominante professional Belly Dancer in the New England area. An innovative and mesmorizing belly dancer, Sabrina is known for her ability to consistantly thrill American and Middle Eastern Audiences with her amazing belly dance performances. A seasoned and technically proficient dancer and perfomer, Sabrina is recognized as a true artist in her field.
Sabrina has Won Awards Two Years in a Row at the Annual Boston Diva Contest in 2005 and 2006 with her original choreographies and costuming. Of Media Acclaim, Sabrina's articles and photos are featured in Jareeda Magazine as the Spotlight Dancer in the April/May 2006 issue and has been the subject of many television appearances, magazine and newspaper articles.
Sabrina is the House Dancer at The Middle East Restaurant in Cambridge, MA and a regularly featured and special guest dancer in many venues across New England including public, private, and theatre performances.
Too creative to limit herself to any one style of belly dance, Sabrina has intellectually and artistically crafted her own unique interpretations and stylizations of belly dance by studying with Master Dance Instructors in differing gendres of classical dance and belly dance.
Sabrina is a highly talented solosist performer, group performer, and gifted instructor of Belly Dance Styles that intergrates many belly dance gendres including Arabic, Modern Egyptian, Lebanese, Turkish-Armenian, and Greco-Turkish, as well as Pharonic, Tribal, and Goth stylizations for Cabaret, Solo, Troupe, and Duet performances. Sabrina is proficient in use of finger cymbals, veils, the Wings of Isis, cane, sword, and candles. A highly versatile performer, Sabrina makes educated and appropriate choices for performances based on environment, culture, and expectations.
Sabrina is a Troupe Member and Principle Dancer in the New England area with Snakedance Theater Productions Directed by Johara, and is a member of Al-Jawary Al-Hessan Directed by Sardis. Sabrina is the Artistic Director of her own Arabian Nights Harem Dancers Troupe.
A popular and sought after Instructor since 1998, Sabrina teaches over a dozen classes and workshops per week for beginners through advanced level dancers, and instructs advanced and Professional Belly Dancers throughout the New England area. Sabrina's former students Erzulie, Alicia, and Karina Khan have won awards at belly dance competitions in the Boston area.
Sabrina is a hostess of student showcases where students of all levels can demonstrate their talents in a casual, comfortable enviroment, and sponsors workshops and showcases that feature herself as well as other professional dancers. Sabrina beleives in the public promotion and edification of the dance as a highly revered, multifaceted and skillful art form.
Sabrina is the Chairperson for the Boston Chapter of the New England Belly Dance Association (NBDA) where she is working collaboratively with other local dancers to promote the art of belly dance by hosting halfi's, fund raisers and other related events. Please contact Sabrina if you are interested in joining the Boston Chapter of the NBDA.
Contact Sabrina at bellydancersabrina@yahoo.com or 617.823.8541 for more information.
Scroll down for more information on performances, instruction and classes , how to join Belly Dancing by Sabrina's Yahoo Group, and answers to Frequently Asked Questions.
PERFORMANCES by Sabrina
Sabrina LOVES making your special event memorable, exciting, and fun!
Anniversaries
Art Shows
Bachelorette Parties
Bar/Bat Mitzvah
Belly Grams
BBQ
Birthdays
Concerts
Corporate Events
Cruises
Fairs/Festivals
Graduations
Museums
Music Bands
Night Clubs
New Years Eve
Receptions
Restaurants
Retirement Parties
Soirees
Theatre
Theme Events
Weddings
Women's Parties/Girls Night Out
(This photo is of Sabrina performing a belly gram)
Sabrina's Performance Menu
Classic 5-part routine: DJ or Band – Ideal for weddings, parties, restaurants and clubs. A Turkish/Armenian/Greek style show including finger cymbals, veil dance, floor work, and drum solo to traditional belly dance music.

Classic 3-part Arabic routine: DJ or Band – Ideal for weddings, parties, restaurants and clubs. An Arabic/Egyptian/Lebanese style show including a fast veil intro, exciting hip work and isolations, drum solo, and cane (Assaya) to classically composed belly dance music.

Combination: Demonstration, Lecture, and Mini Lesson Ideal for Girl Scout Troups and educational groups.

Combination: Class and Performance Ideal for Bachelorette Parties, Goddess Parties and Girls Night Out or any prvate party or event.

Multiple Dancer and Duet Performances: Ideal for festivals or larger events, stage and theatre. Arranged with other professional belly dancers with whom Sabrina performs duets or troupe performances.

Props: The Wings of Isis, Cane, Sword, Candles, Veils - can be added to any performance.

Belly-Grams: Ideal for birthdays, anniversaries, retirement parties, for fun and casual events. Arriving at the door, dressed in a beautiful belly dance costume, with finger cymbals, music and veil to dance for your guest of honor. A fun, comedic and sexy yet appropriate for family fun belly dance in a residence, restaurant or hall. Sabrina will dress him up as a Sultan, feed him grapes, and (maybe!) get him up to dance!

Bag-Belly Grams: Ideal for birthdays, anniversaries, retirement parties, for fun and casual events. Sabrina arrives incognito as a bag lady, ready to fool the special person and guests with her antics until she surprisingly transforms into a beautiful belly dancer.
Rates, lengths, and styles of shows are negotiable.
Contact Sabrina for performance fees and to arrange a booking at bellydancersabrina@yahoo.com or call 617.823.8541.
BELLY DANCE INSTRUCTION & CLASSES by Sabrina
Belly Dancer Sabrina instructs belly dancers from novice beginner students to popular professional dancers throughout New England.
Sabrina's curriculum incorporates dance conditioning and performance preparation in traditional and contemporary aspects of the art of belly dance that prepares the dancer to effectively perfect and benefit from the basic and classical movements associated with the art of belly dancing. Sabrina's pedagogy infuses a strong foundation of the movements of belly dance while introducing various stylizations and interpretations, with a focus on encouraging students' individual interpretaion and personal style.
Sabrina uses creative visualization and inventive cueing to describe and explore movement goals, paying attention to unique needs and addressing different learning styles. Dance conditioning and technique is taylored to the specific movements taught in each class. Movements are fused into combinations and/or choreography that are open to interpretation and stylizations. Sabrina incorporates movement rehearsal (also known as "drills") to engrain learning, and dedicates time in each class to use of prominant props such as veil and finger cymbals.
Each class is unique and offers a focus on different movement combinations, sections of the dance, use of music, and interpretation. Expect to learn something new in each class and be moving the entire time. Please bring your own props and dress appropriately for dancing. Plan to dance barefoot or in soft dance shoes. More information on what to wear, have and bring to class is listed on Sabrina's classes page.
Sabrina encourages her students to develop their own dance style and/or specialize in any of the prominant belly dance gendres. Sabrina's students develop strong technique, enhanced posture, stage presence, versatility, and individuality. Sabrina's students come from and go on to specialize in many different styles of belly dance. All have benefited from her unique instruction and strong adherence to basic dance conditioning and technique for belly dance movements that include: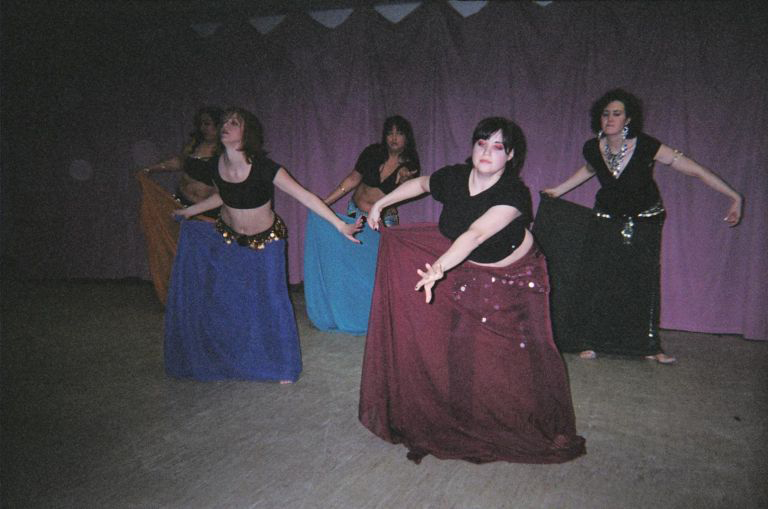 Arm and Hand Movements
Belly Rolls
Drum Solo
Isolations and Articulations
Finger Cymbals
Floor Work
Slow and Fast Hip Movements
Shimmies
Undulations
Veil Work
In the gendres of...
Cabaret
Choreography
Classical Five Part Routines
Classical Three Part Routines
Improvisation, Fusion and Innovation
Group and Duet Performances
Solo Performances

Contact Sabrina at bellydancersabrina@yahoo.com or call 617.823.8541 for more information or to sign up for classes.
JOIN BELLY DANCING BY SABRINA'S YAHOO GROUP
All new students are required to join Belly Dancing by Sabrina's Yahoo Group: If you are at all interested in Belly Dancing by Sabrina, it is strongly recommended that you join Belly Dancing by Sabrina's Yahoo Group.
Joining Belly Dancing by Sabrina's Yahoo Group is quick, easy, safe, fun, and free - you can choose how you wish to recieve updates and can opt out at any time
By joining Sabrina's Yahoo Group you will gain immediate access to important information, notes, and choreographies regarding Sabrina's classes, workshops, performances and student showcases.
Please join Sabrina's Yahoo Group Belly Dancing by Sabrina by clicking here: http://groups.yahoo.com/group/BellyDancingbySabrina/ or enter your email address below!
Contact Sabrina with any questions, concerns, or help in joining Belly Dancing by Sabrina's Yahoo Group at bellydancersabrina@yahoo.com or call 617.823.8541.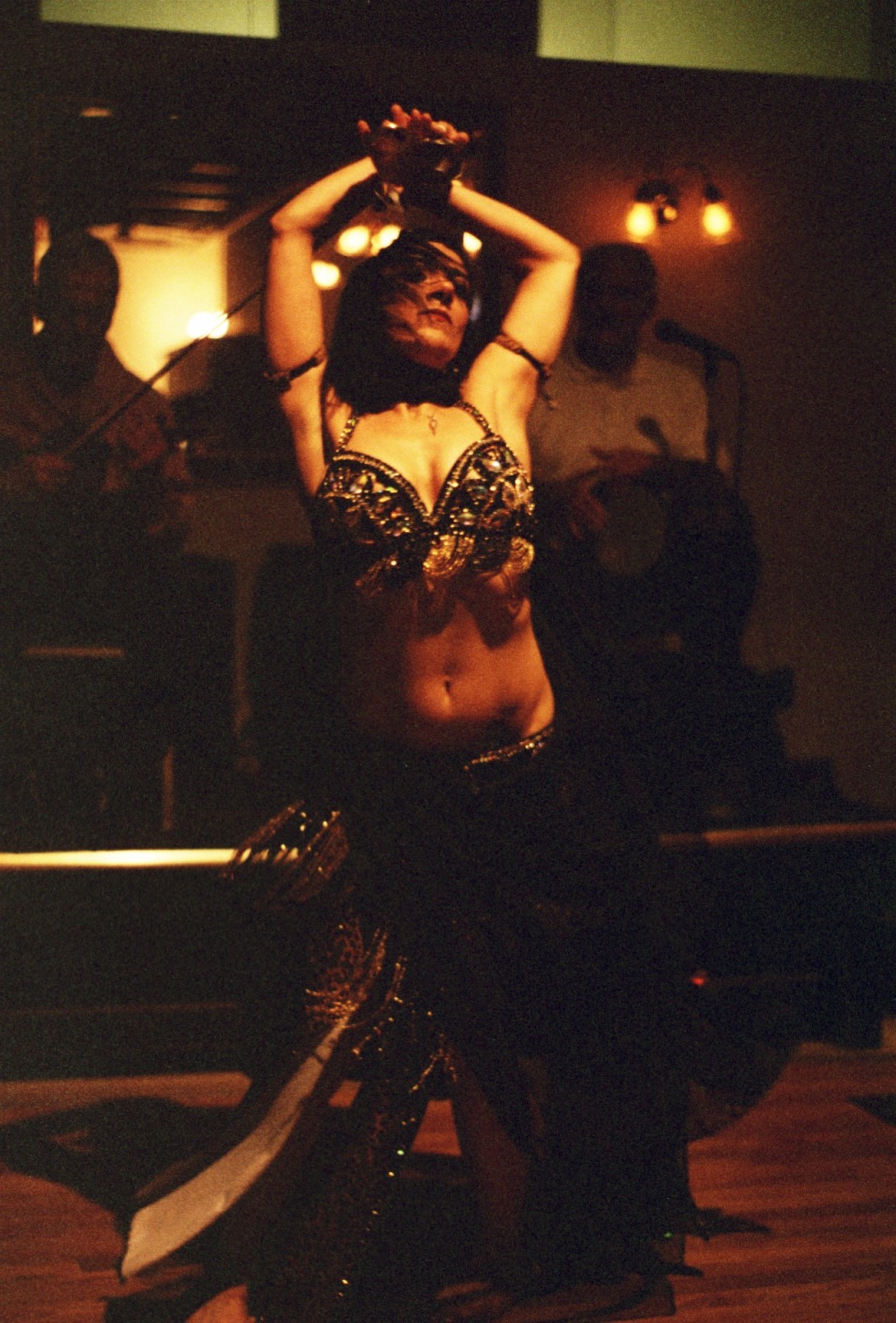 Contact
Contact Sabrina at bellydancersabrina@yahoo.com
or call 617.823.8541.
Sabrina at Athenian Corner - Photo by Faith Kauffman 2005
Frequently Asked Questions
How long does it take to learn how to belly dance?
There are so many variables that factor into learning any new skill, such as aptitude, desire, motivation, innate talent, work ethic, past experience, etc. How long it takes to learn how to belly dance therefore depends on the individual. In any one class you will learn several belly dance moves and ways of combining those moves that you could certainly take home to show to your family or to use out clubbing with your friends that weekend.
How long does it take to become a professional belly dancer?
Becoming a professional belly dancer generally requires many years of intensive and dedicated study. Belly dancing as practiced by professional belly dancers is a skill that requires more than just a few classes - it is not like learning a line dance or club dancing. Belly dancing is an art form that has its own set of requirements for proficentcy and mastery. To belly dance professionally requires the equivalent to the demands of mastery of any other art or dance form.
When can I begin?
Most classes and mini workshops are on-going and you can join them at any time. Some classes run by semester and new classes start often. Information is posted on the classes page. Email or call Sabrina at 617.823.8541 for questions.
How do I know which classes to take?
Sabrina teaches classes that are appropriate for the novice through professional. Even seasoned professional dancers take her classes and workshops becasue of her unique interpretation, ability to teach, and level of technique. If you have never studied with Sabrina you should choose a beginner's class that is best for you based on availability and location. Otherwise, ask Sabrina for advice.
What if I have already taken belly dance classes before or already know how to belly dance?
Even if you have been studying belly dance for a long time, it is still appropriate to take beginners level classes with a new instructor since you will not be familiar with that instructors' particular style, skill sets, interpretations, combinations, or choreography. If you have never studied with Sabrina you should choose a beginner's class that is best for you based on availability and location.
After taking a few classes you can better determine if taking advanced level classes, mini-workshops, or private lessons is more appropriate for you. You can always call or email Sabrina at bellydancersabrina@yahoo.com or call her at 617.823.8541 for advice.
What do I need for classes? What should I wear?
Wear comfortable dance or exercise clothing and plan to dance in bare feet, or soft dance shoes. Fun wear includes skirts or harem pants, cropped half tops and tank tops or decorated bra tops, fringed or coined belts, jewelry and make-up. Bear in mind you won't want to feel hindered while dancing. Please bring your hip belt, veil and finger cymbals to each class. Sabrina also describes what you need to bring, have, and wear to classes on her classes page.
Do you teach pole dancing, erotic or strip dancing?
No - those dance forms, while fun, valid, and skillful, really have nothing to do with the art of belly dancing.
What are classes like?
Each class has it's own ambiance but all beginner classes are taught to beginner's level, with movements and combinations thoroughly broken down and explained. Each class begins with rhythmic movement rehearsal and dance conditioning technique to prepare the body for the specific movements intended in the later part of the class. Specific belly dance movement vocabulary are thoroughly broken down and introduced to students, then fused together into combinations and choreographies. Some time in each class is also spent on learning to dance with the veil and in learning how to play the finger cymbals. Sabrina weaves into her class information on perfomance, culture, and ettiquette pertaining to belly dancing. Expect to be dancing the entire time, get a good workout, and learn something new in each and every class. Sabrina makes all her classes fun, interesting, and rewarding.
Am I too old, too fat, etc. to belly dance?
Since we live in a society that venerates youth and thinness we cannot help but be affected and in some venues (such as for belly grams or in night clubs) dancers who are thinner and/or younger are sometimes more desirable (but not always). This is an aesthetic domain after all. However, the very best, most popular professional belly dancers can be obese, and dance into older age - they are still very active and much admired as professional belly dancers. So no, you are not too old or too fat to belly dance and in fact there are aspects in which your experience and body type will work for you as a belly dancer. It is never too late to learn how to belly dance and to perform in certain venues.
What if I want to use belly dancing to lose weight and get into shape?
Belly dancing, like any other physically demanding medium, can and will certainly raise your metabolism, strengthen and tone the musculature, stimulate circulation and increase caloric expenditure. Belly dancing can help you both learn to love your body as well as enhance your health and sense of well-being. If you are seeking weight loss and fitness gains, plan on doing some sort of physically demanding activity at least three times per week. Take extra classes, work with DVDs at home, or complement your fitness regime with other forms of exercise. Belly dancing is a low impact, mildly cardiovascular activity that will exercise every part of your body - you will find it a richly rewarding form of physical fitness.
What if I don't want to perform - ever?
There are so many reasons why a person may study belly dance - for health and fitness, for social or relaxation purposes, to gain confidence and self-acceptance, to learn a new skill, to do something for themselves, because it is fun, to express themselves creatively and artistically, to feel sexy and learn to feel comfortable in their own skin, etc. You never have to perform. It is OK to just take classes, which is very fun and rewarding too.
And if I do want to perform?
Sabrina wants all of her students to perform becasue the act of performing in and of itself can be so very cathartic and healing as well as very fun! Sabrina is proud of her students and wants them to shine! That is why Sabrina hosts student shows - perfect venues created just for you that are a casual and fun place where students can demonstrate their skills and accomplishments! As a mentor, Sabrina also coaches students who wish to perform on stage, compete, work for agents, or seek other forms of professionalism in their Belly Dance career.
What style of belly dancing do you do?
Sabrina is very familiar with and is an avid performer and instructor of many belly dance styles and performs or infuses the gendres of Arabic, Modern Egyptian, Lebanese, Turkish-Armenian, and Greco-Turkish as well as Pharonic, Tribal, and Goth, for Cabaret, Solo, Troupe and Duet performances. Sabrina also works with props including finger cymbals, veils, Wings of Isis, sword, cane, and candles.
For further questions please contact Sabrina at bellydancersabrina@yahoo.com or call 617.823.8541.
Sabrina performing at wedding in LA 2004